Discounted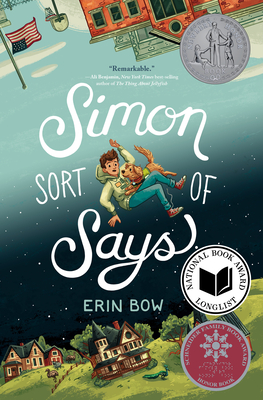 Simon Sort of Says
Previous price:

$16.99
Current price:

$13.59
Publication Date:
January 31st, 2023
Publisher:
Disney-Hyperion
Usually Ships in 1 to 5 Days
Description
For fans of Kate DiCamillo and Jack Gantos, a hilarious, wrenching, hopeful novel about finding your friends, healing your heart, and speaking your truth.
Simon O'Keeffe's biggest claim to fame should be the time his dad accidentally gave a squirrel a holy sacrament. Or maybe the alpaca disaster that went viral on YouTube. But the story the whole world wants to tell about Simon is the one he'd do anything to forget: the story in which he's the only kid in his class who survived a school shooting.
Two years after the infamous event, twelve-year-old Simon and his family move to the National Quiet Zone—the only place in America where the internet is banned. Instead of talking about Simon, the astronomers who flock to the area are busy listening for signs of life in space. And when Simon makes a friend who's determined to give the scientists what they're looking for, he'll finally have the chance to spin a new story for the world to tell.
From award-winning author Erin Bow, Simon Sort of Says is a breathtaking testament to the lasting echoes of trauma, the redemptive power of humor, and the courage it takes to move forward without forgetting the past.
Praise for Simon Sort of Says
*An uproarious small-town comedy with a devastating tragedy at its core.
—Kirkus, starred review<br>
*Despite the weighty premise, Bow's storytelling brims with vitality, featuring many hilarious, outlandish scenes, like the antics of a funeral home's peacock, a dog that retrieves cans of beer, and the life and death of a Jesus Squirrel. The scientific plotline is thematically compelling, and the character-driven narratives thrive in its context, including Simon's narration of his post-traumatic healing and the development of winsome secondary characters.
—The Bulletin of the Center for Children's Books, starred review<br>
*Without detracting from Simon's uplifting emotional arc about making peace with his past and looking toward a brighter future with friends, Bow imbues this sincere story with levity by employing madcap plot points, including several animal-centered shenanigans featuring squirrels, dogs, and emus.
—Publishers Weekly, starred review<br><br>
Accolades:
-Junior Library Guild Gold Standard title
[Masterful] . . . funny and heartfelt in equal measure.
—School Library Journal<br><br>
A near-perfect novel that features quirky friendships, wild astronomy exploits (that almost work!), zany animal capers and plenty of humor amidst the darkness.—Shelf Awareness
Blunt as trauma, delicate as healing, and hilarious and tragic as middle school can be—each piece of Simon Sort of Says snaps together like the most satisfying jigsaw puzzle. This book is as close to everything as one book can be.—Kyle Lukoff, Newbery Honor–winning author of Too Bright to See
Bow delivers another middle-grade page turner. . . . Bow diffuses the story's serious topics, ranging from parental and social issues to mental and emotional health, with humor and a silly scheme. Middle-grade students will resonate with the worries and pressures attached to making friends and meeting one another's families. A tale of healing that serves as an excellent reminder to never assume we know what plights another friend is going through.
—Booklist
Bow tackles really tough topics in this novel with grace and empathy while also threading in laugh-out-loud humor throughout.
—BookRiot
Fast-paced and full of quirky characters, Simon Sort of Says presents a tragedy stitched up with humor, sensitivity, and rare humanity.—Jack Gantos, Newbery Award–winning author of Dead End in Norvelt
With an abundance of humor, vibrant characters, and a gentle approach to hard truths, Simon Sort of Says strikes a perfect balance of fun and meaning. A remarkable achievement.
—Ali Benjamin, New York Times best-selling and National Book Award–nominated author of THE THING ABOU