Discounted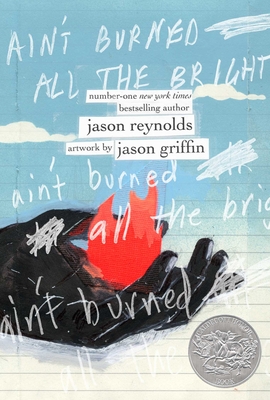 Ain't Burned All the Bright
Previous price:

$19.99
Current price:

$16.99
Publication Date:
January 11th, 2022
Publisher:
Atheneum/Caitlyn Dlouhy Books
If there's ever been a person to write about these times of BLM protests, conflict, COVID, it's Jason Reynolds. Three illustrated poems get to the heart and pain of the matter, make the reader face the Truth, and are full of pain and hope.
January/February 2022 Kids Indie Next List
Description
A Caldecott Honor winner!
Prepare yourself for something unlike anything: A smash-up of art and text for teens that viscerally captures what it is to be Black. In America. Right Now. Written by #1 New York Times bestselling and award-winning author Jason Reynolds.
Jason Reynolds and his best bud, Jason Griffin, had a mind-meld. And they decided to tackle it, in one fell swoop, in about ten sentences, and 300 pages of art, this piece, this contemplation-manifesto-fierce-vulnerable-gorgeous-terrifying-WhatIsWrongWithHumans-hope-filled-hopeful-searing-Eye-Poppingly-Illustrated-tender-heartbreaking-how-The-HECK-did-They-Come-UP-with-This project about oxygen. And all of the symbolism attached to that word, especially NOW.
And so for anyone who didn't really know what it means to not be able to breathe, REALLY breathe, for generations, now you know. And those who already do, you'll be nodding yep yep, that is exactly how it is.
Praise for Ain't Burned All the Bright
A profound visual testimony to how much changed while we all had to stay inside and how much—painfully, mournfully—stayed the same.
Reynolds' poetry and Griffin's art perform a captivating dance on pages of mixed-media collage and emotive reflection on the pronounced threats facing a contemporary Black family. In "Breath One," the opening of the verse narrative, the unnamed boy protagonist struggles with the onslaught of TV news coverage of the systemic violence and death experienced by Black people—coverage that is both overwhelming and insufficient. The television then forms the backdrop of the narrator's concerns for his bedridden father, who is struggling with an acute respiratory illness while isolated in a bedroom. The art is sometimes spare and monochrome before shifting to a bright and striking palette as Griffin deploys aesthetics that enliven the rich flow and rhythm of Reynolds' words. The two skillfully go back and forth like rap duos of old, each with a distinct voice that enriches the other. The result is an effective critique of the ways we've failed as a society to care for one another. By "Breath Three," however, a complicated optimism shines through for a family that perseveres through closeness and connection despite what is broadcast from their TV. While grounded in 2020, many of the issues touched on explicitly are very much not over and not even new, making this remarkable work both timely and timeless.
Artful, cathartic, and most needed.
— Kirkus Review STARRED REVIEW
Reynolds and Griffin's searing indictment of the status quo is expressed in the voice of a young, unnamed Black man, whose timely comments resonate beyond the personal to the universal.[…] Reynolds' text—printed on strips of white paper affixed to notebook pages—comments on a seemingly changeless world on fire, on protests in the wake of George Floyd's murder, and on the seeming omnipresence of COVID-19—all of which reflect a world without the freedom to breathe. It's a bleak picture but not one without hope of change. Griffin's remarkable mixed-media collage pictures that employ a palette largely of black and red are a perfect complement to the text, capturing its tone and style exactly while expanding and enhancing the words of the poetic text. The result is an important combination that expresses the zeitgeist of a troubled time. It's essential reading.
— Booklist *STARRED*
Author Reynolds and artist Griffin, friends and previous collaborators (My Name Is Jason. Mine Too.), explore recent events in America through a poetic multimedia partnership told in three "breaths." […] As Reynolds's lines depict Black people facing police brutality, Covid-19, and general concerns regarding safety, Griffin's captivating collages literally and metaphorically capture a constant state of worry and panic, leading to visual moments that encourage the reader to find solace and inspiration in the everyday.
— Publishers Weekly STARRED REVIEW
*"Ain't Burned All the Bright is a gripping, emotional look into the life of a Black family living through what is evidently the early months of the Covid-19 pandemic.
Artist Jason Griffin (My Name Is Jason, Mine Too) has designed this book as a notebook-style journal, separated by author Jason Reynolds (Stamped; Long Way Down) into three parts: "Breath One," "Breath Two" and "Breath Three." In the first breath, a Black first-person child narrator grapples with the protests he sees on the news about people who look like him fighting for "the freedom to breathe." With breath two, the child observes his family members in the living room while his father coughs incessantly in his bedroom. His father, despite the "rattling hack," reaches out to his son with optimism. In the third breath, the boy becomes overwhelmed with worry: "It feels like I'm the only person who can tell we're all suffocating." As the news makes him spiral, he sees "the beginning/ of a laugh" on his mother's face. Though the boy still wonders about the world, he is able to take a breath "in through the nose/ out through the mouth."
Griffin ... shows his creativity and range by also including abstract pages full of stark red and black paint and realistic figures like George Floyd or illustrations of hands. Reynolds's spare free verse appears as text printed out then taped down on top of the art. Together, the two creators channel the weight of uncertainty and chaos that Black people endure, as well as the hope they carry with them on a regular basis."
— Shelf Awareness, starred review
*"In the summer of 2020, amid an unending news cycle of fear and death, millions of people took to the streets to protest the murders of not only George Floyd but also many more Black people by police officers. In Ain't Burned All the Bright (Caitlyn Dlouhy, $19.99, 9781534439467), author Jason Reynolds and artist Jason Griffin portray this claustrophobic spiral from the perspective of a young boy. "And I'm sitting here wondering why / my mother won't change the channel," the narrator begins, "and why the news won't / change the story." In sections titled "Breath One," "Breath Two" and "Breath Three," his desire to change the channel transforms into fearful imaginings of his family being consumed by smoke, water or illness. Griffin's art is the linchpin of the book. Dynamic and visceral, it is composed with paint, pencil and lined paper, as well as with Reynolds' text itself, which Griffin has cut out in strips of short phrases and placed into each spread. He skillfully juxtaposes vast spaces of black and white with color and texture; canvas tape and speckled paint make images feel urgently dimensional, while the blank spaces feel expansive. Many of the illustrations recall the densely saturated colors and silhouette figures of artist Kerry James Marshall. In the book's final pages, Griffin depicts a large leaf growing out of a pot, its delicate green reaching the top of the page. ... As it ends, Ain't Burned All the Bright doesn't offer any platitudes, and the narrator still wants to change the channel. But he does, despite everything, remember to breathe."
— Bookpage, starred review
*"Reynolds' wrenching and hope-filled poem is divided into three steadying "breaths," marking the family's isolated, wheel-spinning activities; the father's physical crisis; and the family's reunion. As the poetry makes its way from anguish to hope and recovery, Griffin traces the same emotional journey through mixed media artwork... spreads built of gritty texture and turbulent imagery and fiery red blazes fracture just enough to let in streaks of blue sky; then scenes widen for bright, homey quilts and are soon dominated by a family cozied on a sofa on a verdant field of grass. This powerful title may become the memory book for how we made it through troubled times."
— The Bulletin of the Center for Children's Books, starred review
*Reynolds's introspective narrative poem shares the stage with Griffin's emotive collage-like illustrations to create an authentic young adult narrator trying to grapple with the confusion and fear of the double pandemic (COVID-19 and systemic racism) he is facing. -NICHOLL DENICE MONTGOMERY
— Horn Book Magazine, *STARRED*
Gr 7 Up–Reynolds's breathtakingly poetic prose melds seamlessly with Griffin's effective multimedia images to capture a story of our time that should be read by everybody. For everyone who has felt the weight of grief and fear or the comfort of love and family in the last two years, this is a must read.–Amanda Harding
— School Library Journal, *STARRED REVIEW*